Some Letters of CWL to Fritz Kunz
Shirley J. Nicholson, a former senior Editor of Quest Books in the United States and who studied with him, wrote that Fritz Kunz (pictured) was a pioneer in the movement that allies spiritual philosophy with modern science. In the 1940s and 1950s he was actively teaching prestigious scientists about Theosophy and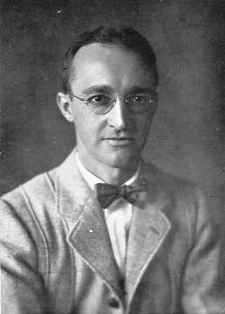 Indian philosophy, especially as they relate to field theory in physics. At the same time, he taught Theosophists about field theory and modern physics as they coincide with the principles of Theosophy. He founded The Foundation for Integrative Education, which sought to break down rigid departmental borders and promote an integrated view of many disciplines with underpinnings of a philosophy drawn from Theosophy. He published a journal, Main Currents in Modern Thought, with articles by well-known scientists and by himself that added to this integrated view. Many of the ideas that Kunz promoted so long ago have become well known in scientific circles. He was forward-looking in his insight that aspects of modern science could support Theosophy and Eastern ideas.
When Fritz Kunz was young his family was closely associated with C. W. Leadbeater and he travelled with him as one of his secretaries both in the United States and also around the world. The letters below, written by CWL to Fritz, are unique in the sense that they embody commentary about the custody battle between Annie Besant and Naraniah, Krishnamurti's father, in which CWL was called to court as a witness as he had been accused by Naraniah of having committed an "unnatural offence" against the boy Krishnamurti. At the trial, the presiding judge threw away the accusation. However, CWL's enemies continued their campaign against him.
In some letters, CWL also comments about the 1906 charges and campaign against him, in particular about a central piece of evidence which was presented against him – the Cipher Letter – which later on Annie Besant, who had seen the original, declared it to be a forgery. CWL wrote to Fritz on 6 February 1913: "As to that horrible cipher letter, I think that I have already told you all that I know of the matter. I certainly did not write the thing in the form in which it at present appears, and I equally certainly never used the phrases attributed to me in the sense which is there put upon them. I have never seen the original, but I did see a written copy made by Monsieur Charles Blech from one that was shown to him by (I think) Mrs. Russak."
CWL hardly made any public pronouncements during that crisis and that of 1912-13. But in these letters he communicates to Fritz Kunz his considered thoughts about them. In his letter of 21 October 1914 he states that the real reason for him to leave Adyar was the invitation by Thomas H. Martyn for him to have an extended stay in Australia and help with the work of the TS there, and not, as his enemies circulated, that the Government of India should deport him from the country as a result of the court proceedings.
We are grateful to the Archives of the Theosophical Society in America for supplying copies of these letters. Some of these were published in the book CWL Speaks – C. W. Leadbeater's Correspondence concerning the 1906 Crisis in the Theosophical Society by Pedro Oliveira, Olive Tree Publications, Woy Woy, 2018.
As time permits, more letters of CWL will be posted on this page.
Facsimiles of some letters included in the book CWL Speaks – C. W. Leadbeater's Correspondence
concerning the 1906 Crisis in the Theosophical Society
The book CWL Speaks was published in February 2018. It can be read online here: http://www.cwlworld.info/CWL_Speaks_-_second_print_PDF.pdf
The Foreword, written by Robert Ellwood, can be read here: Foreword - CWL Speaks
The Introduction to the book CWL Speaks by Pedro Oliveira can be read here:Introduction - CWL Speaks
Below are links to a number of letters which were included in the book, either partially or in full, in Chapter 1, 'Early Correspondence with Helen I. Dennis'. The letters present important evidence that the boys in question were placed under the care of C. W. Leadbeater, either by their parents or relatives, out of their own concern for their proper theosophical education and not, as it has been maliciously mentioned, by CWL's wishes. None of these letters has featured in any biographical study of CWL prior to the publication of CWL speaks.
Letter from CWL to Helen Dennis, 28 December 1900
CWL to Helen Dennis Dec 1900 copy
Letter from CWL to Helen Dennis, 6 March 1901 (two parts)
CWL to Dennis March 1901 II copy 2
Letter from CWL do Robert Dennis (Mrs Dennis' son), 22 June 1901
Letter from CWL to Helen Dennis, 16 September 1903
Letter from CWL to Helen Dennis, 12 October 1903
Letter from CWL to Helen Denis, 22 October 1903